SPEC HIGHLIGHTS
SPEC

Morgan Plus Four manual

ENGINE

1999cc

BHP

255bhp

0-62

5.2s
Ash to ash: our Morgan meets a wooden bike
I read the other day that scientists have just tested a beetle found in the western United States, and discovered its body is tough enough to withstand 39,000 times its own weight. They don't say how they tested the poor thing, so we'll have to assume it didn't involve a set of Atlas Stones and a blasé approach to animal welfare.
Anyway, that's roughly equivalent of me being able to support a WW2 submarine on my back without buckling. Or half a dozen fully-laden Airbus A380s. It's all to do with the beetle's jigsaw-patterned wing covers and other supports that are hard in some places, compressible in others. University engineering teams are now seeing how this could be used in technology relevant to us. 
Advertisement - Page continues below
The very obvious point I'm trying to make is that nature still has stuff to teach us. And a ready supply of amazing materials. In this instance, wood. Now, I freely admit that I used to be sniffy about Morgan and its use of wood. Why wood when everyone else moved on to metal about a century ago? And what's that falling off the back of our long term Plus Four? A wooden bike? Pull the other one, it's connected to a dandy horse. Bike firms moved beyond metal into carbon fibre a couple of decades ago and haven't looked back since. 
But both our Morgan Plus Four and the brand new Twmpa Cycles GR 1.0 gravel bike use the same wood – ash – and both claim no other material can do what it does. Time to find out more.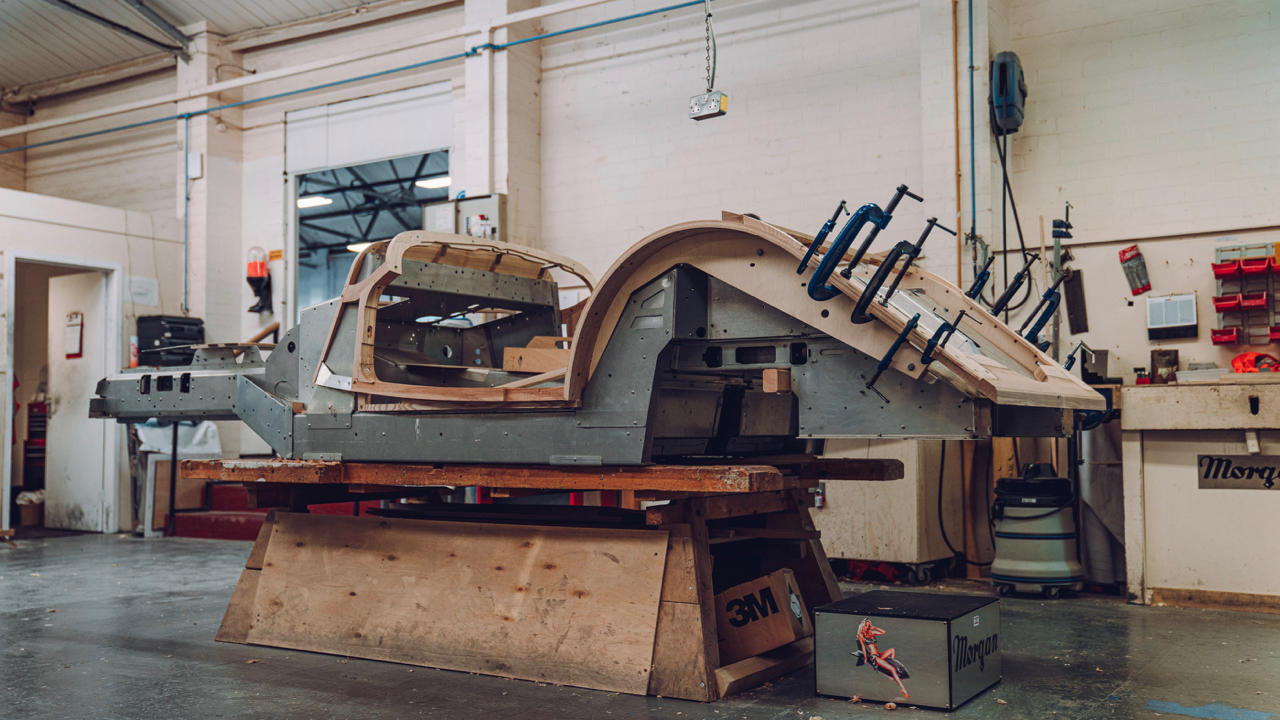 Here's the biggest Morgan urban myth: the cars used to have a wooden chassis. Wrong. No Morgan has ever had a wooden chassis. Ever. Originally they had a steel chassis, these days it's aluminium. The wood is used for the frame – this sits over the chassis and has the body panels and trim attached to it. Not many modern cars need a separate frame, as most are monocoque construction where the chassis and frame are one. 
Advertisement - Page continues below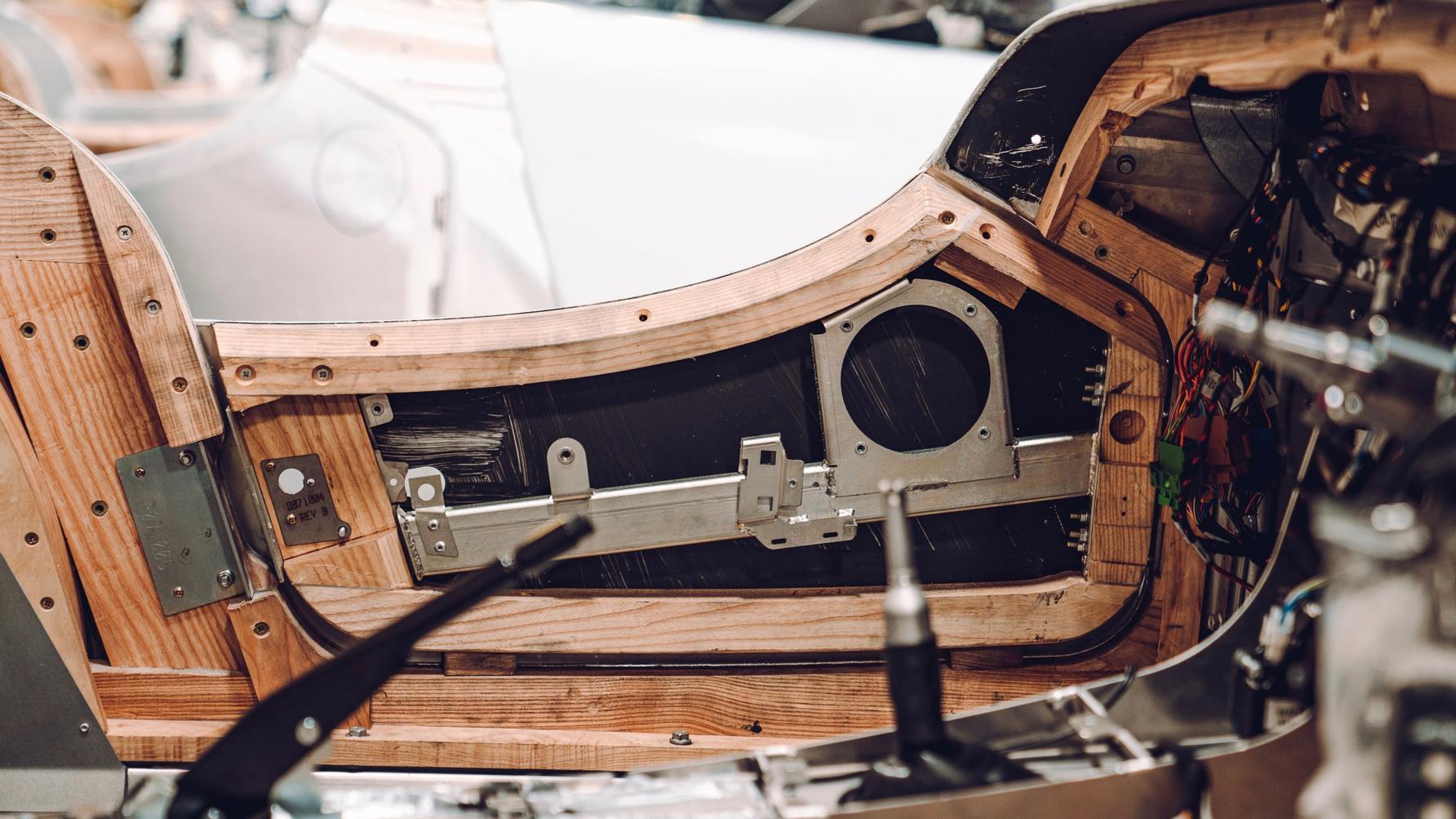 However, because Morgan's volumes are low (usually around 1,000 cars a year) it simply wouldn't be economically viable to create the expensive tooling needed for an integrated metal frame. But above and beyond that, wood is cheaper, easier and far more flexible to work with. So Morgan can develop one chassis, and then adapt the wooden frame to support different bodies. 
Why ash then? Jon Wells, Morgan's Head of Design tells me "it's a very stable and durable wood, it grows straight, it stays true once dried, although ash is a hardwood it's relatively light and it makes a great substrate that we can trim to. It's soft and forgiving enough to attach leather to inside the car, but we can also beat metal to it and it'll take the hammer impacts without warping or cracking".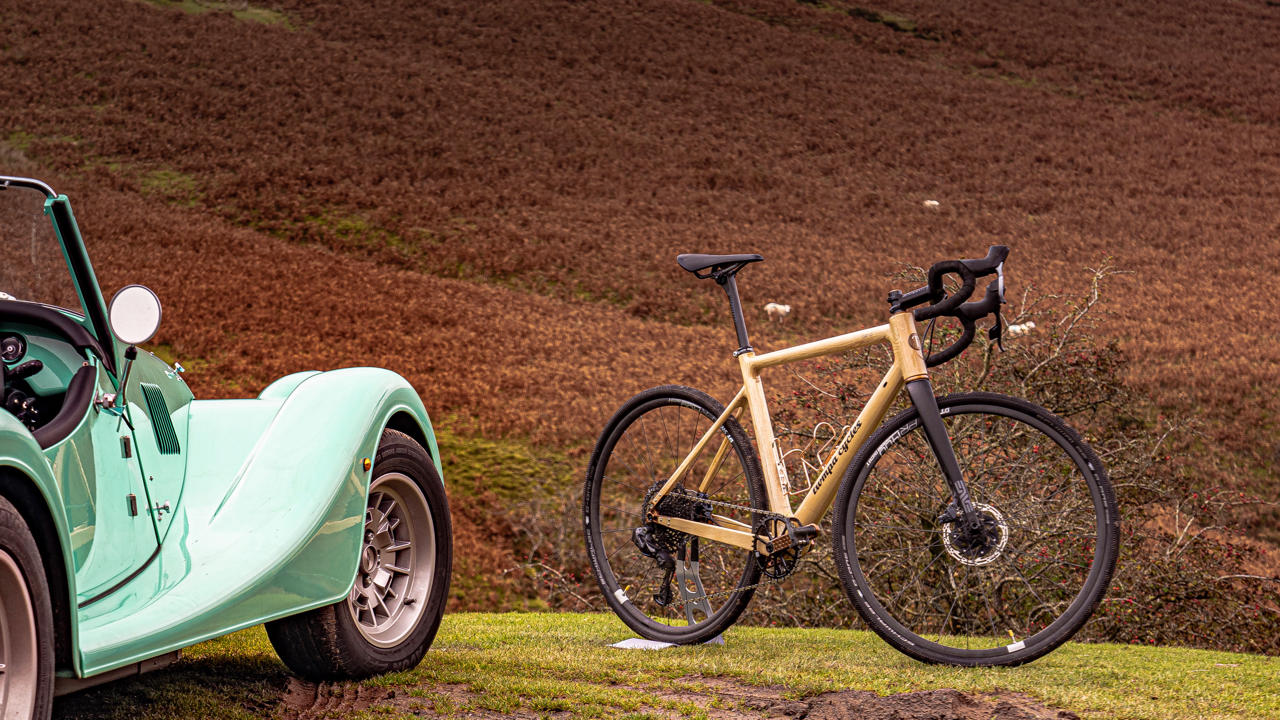 Let's ask the same question about the bike. Andy Dix is the founder of Twmpa Cycles. "On a bike all the vibrations from a rough road are transmitted through the tyres and wheels, into the frame of the bike and soon after, through your backside, up your arms and into the soles of your feet. Steel and aluminium transmit those vibrations very well, carbon fibre can be tuned to take some of them out, but unlike those materials, the cells that form wood can stretch and compress." 
"The substances that make up the cell walls are a lignin matrix, which has viscoelastic properties, having both a viscous component (like peanut butter) and an elastic component (like a spring). The cellular structure of wood means that every part of the frame acts to absorb (in the spring) and dissipate (the damper) any vibration. So wood can be thought of as a massive complex of micro suspension systems.
"Many people's first thought is that a wooden frame is comfortable because the wood flexes. This is not the case – a flexible frame would make for a horrible ride. On the contrary, a wood-framed bike which has been designed correctly will be as stiff and responsive as any well-designed steel, aluminium or carbon frame. And because the rider experiences fewer vibrations they are less fatigued and more comfortable."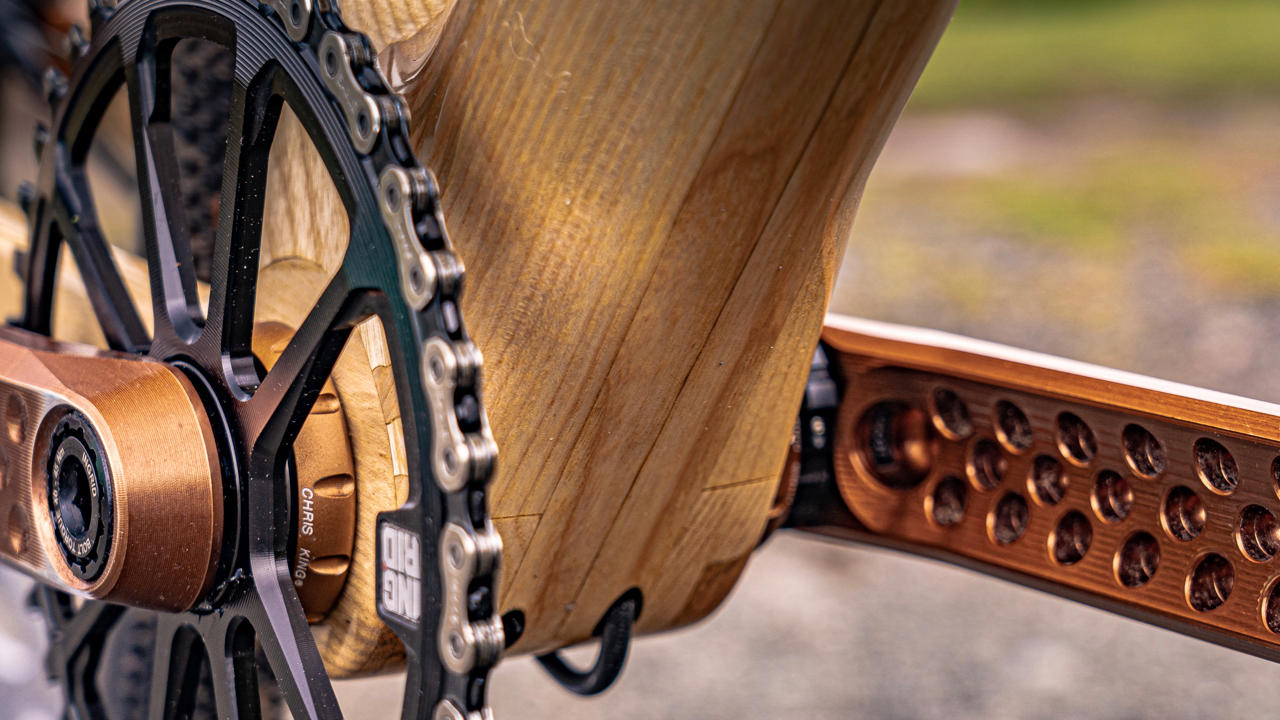 OK, but why ash specifically? "It grows straight, it's strength to weight ratio is good, it's nice to work with, forgiving and very resistant to shock – so it sustains impacts with far less damage to the structure. On top of that its carbon impact is very low, and all the wood we use is sustainably farmed and grown in the UK. And it looks beautiful." 
The frame isn't solid, but is handmade in two hollow halves the mirror image of each other, which are bonded together, sanded and finished, and finally treated with three coats of epoxy clear-coat and two more of UV-proof polyurethane yacht varnish. Total frame weight is about 1.8kg. Top line carbon bike frames are half that, but for a fully built-up bike that weight differential doesn't vary further – so you're only looking at an additional kilo or so over a carbon equivalent.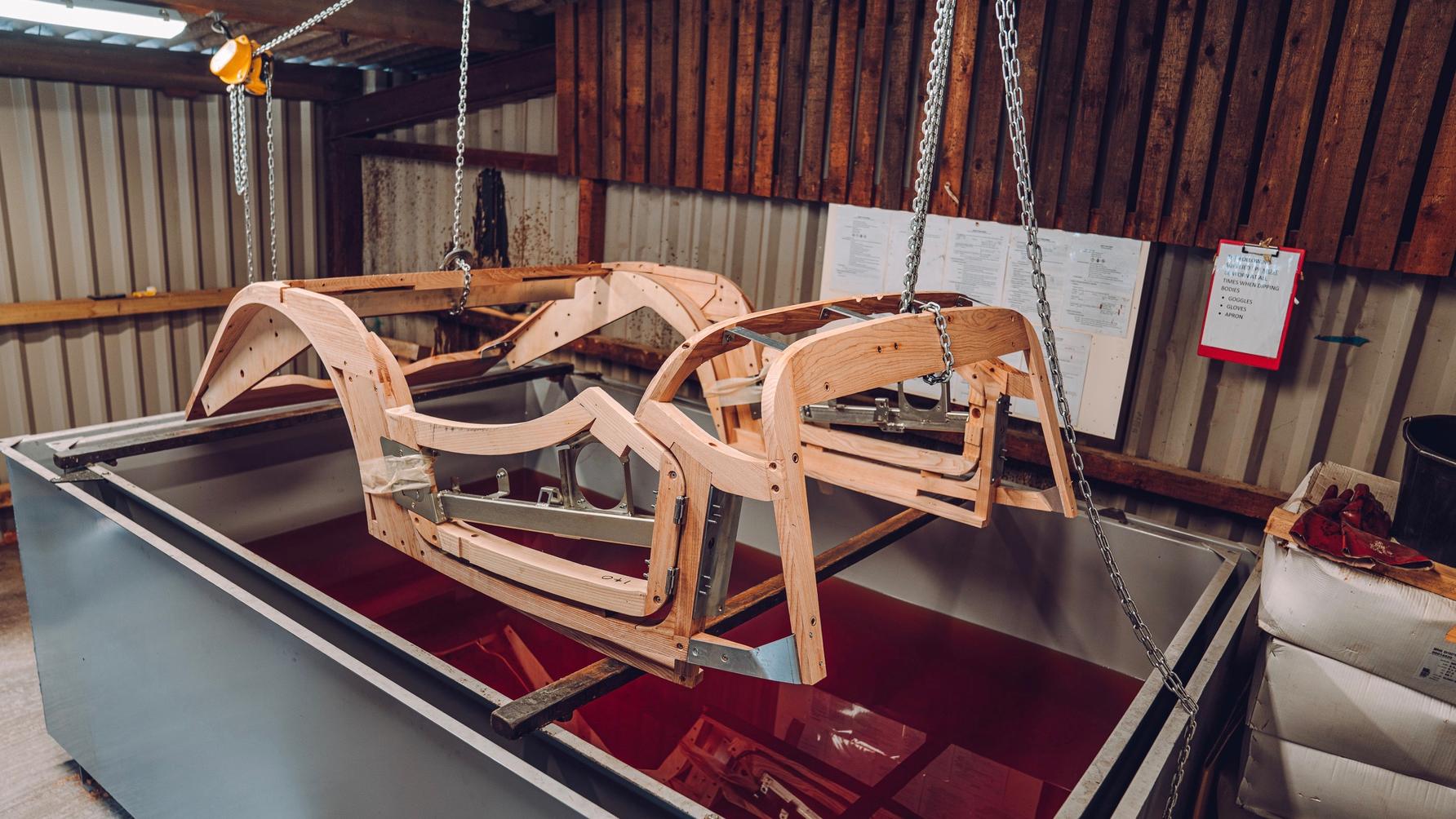 Meanwhile, more ash is used in this Morgan than has ever been used in any other. In total the Plus Four's frame weighs 30kg. 
Here it is above the dip tank – a process that is done to prevent disease getting in. Apart from that Wells says that ash has impressive longevity, "ash doesn't warp once it's worked, nor does it swell and shrink. We have cars in Sweden and the Middle East with no issues. Sometimes we have cars from the Fifties coming back to the factory, and the body or chassis is showing signs of rot, but the wood is still perfect."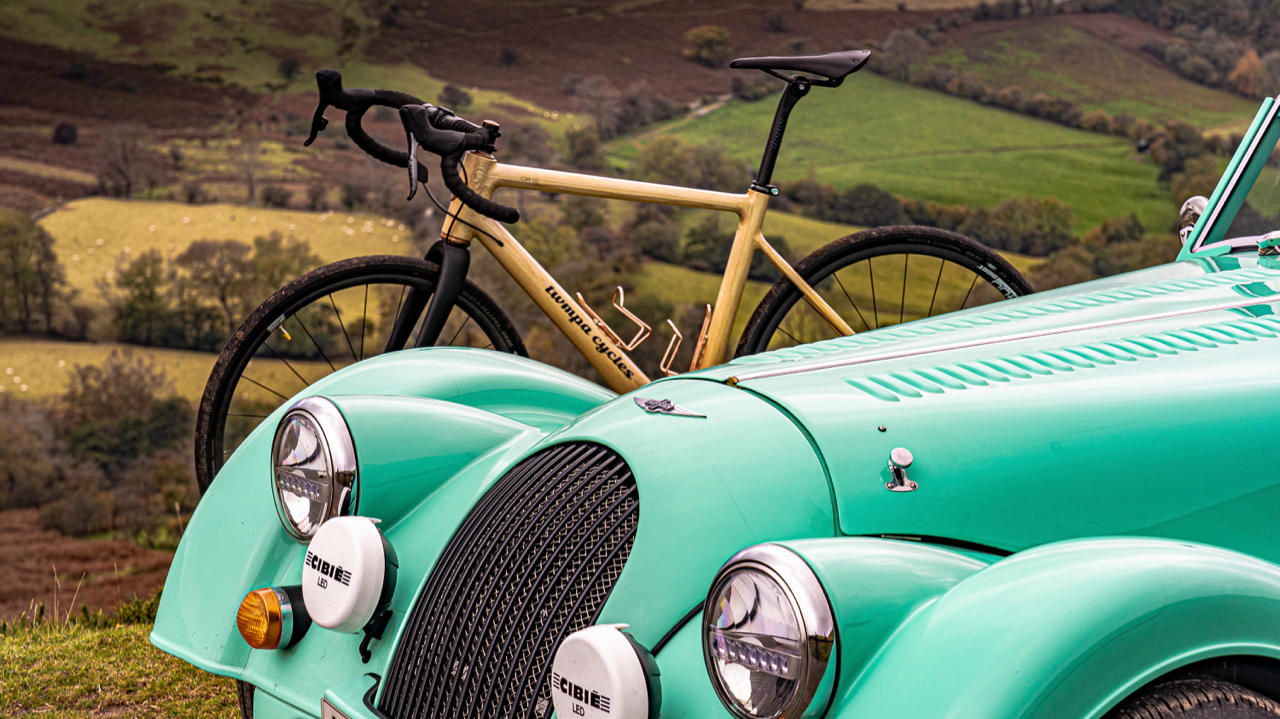 A point of differentiation between the two. The Morgan is for use on roads, the Twmpa is a gravel bike, designed as much for tracks and bridleways as tarmac. "Because that's where wood makes most sense, where its benefits are clearest" says Dix, "weight doesn't matter so much, but comfort really does". 
I only had a quick go. I'd expected the bike to feel a bit 'wooden' underneath me, stiff, but inert. It doesn't, it feels agile and playful, but while big knocks are obviously still there, the small ones, the road hum and buzz mostly aren't. It's uncanny.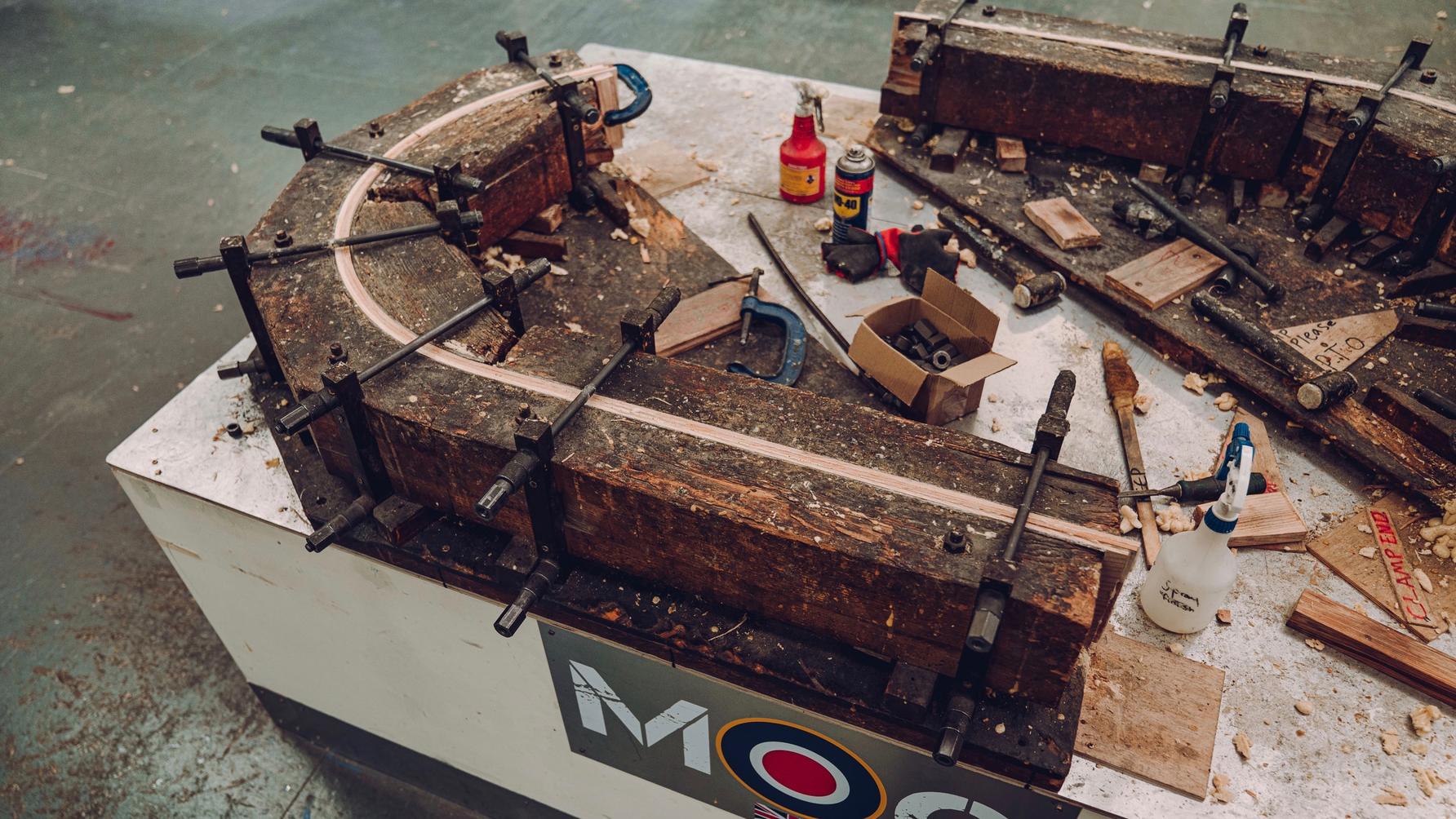 Most of the ash for the car is worked timber, handcut and shaped to fit. Morgan's engineers actually select different parts of the tree for specific areas of the frame. The rear wheelarch is different, made up of three 4mm planks laminated together. That's done in this jig. No-one's quite sure how old it is, but it dates back to the Fifties at least. 
"It's also slightly out, the curve isn't quite perfect," says Wells, "but it's actually easier for us to alter the CAD drawings to be a fraction imperfect and match the jig, than it is to create a new jig to replace it." That's right, CAD drawings. Just because the material has been around for centuries doesn't mean the techniques to measure, shape and work it haven't moved on.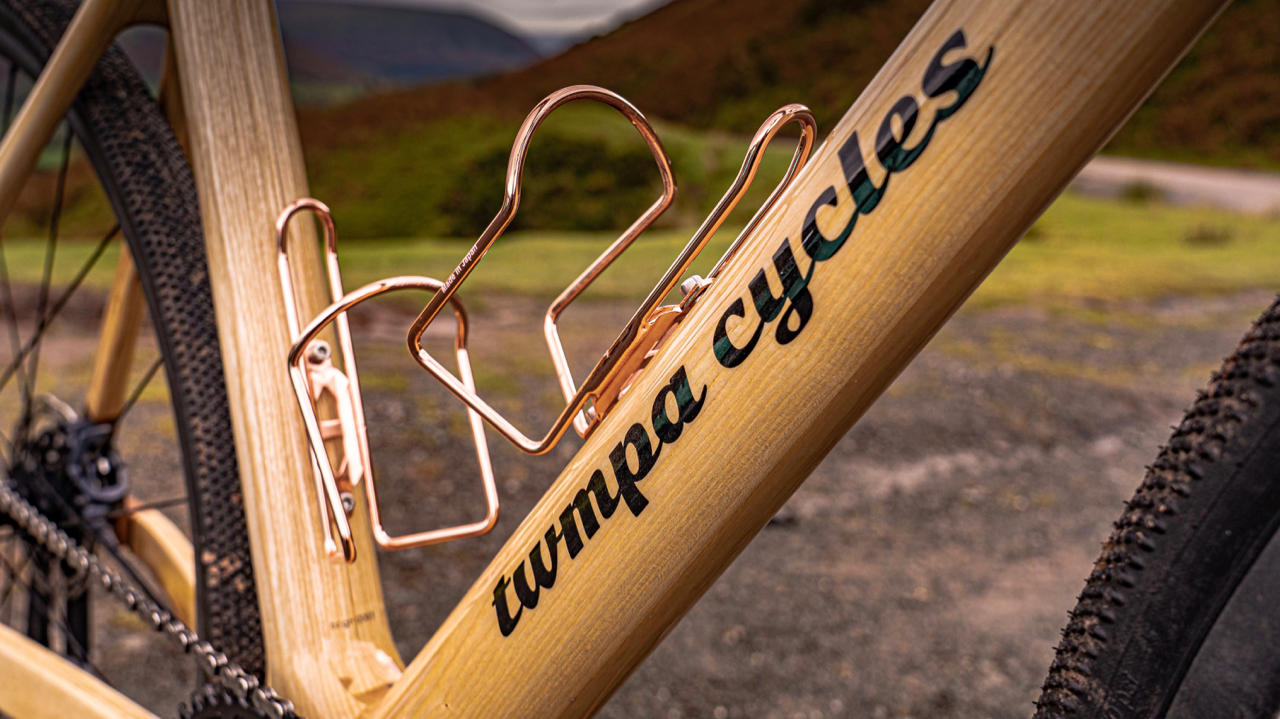 It's the same for Twmpa Cycles. The company might only just be starting out, but it has worked with Fablab, based within Cardiff Metropolitan University, to work with 3D design software. Beyond that the bike has been put through empirical testing and earned an ISO rating for impact and fatigue, which simulates 10 years of hard use.  
The wall thicknesses are between 5mm and 6.5mm depending on where the strength is needed, with large diameter tubes used to combat the torsional forces – greatest in the tube between the pedals and handlebars (the downtube). 
Not everything is wood, though. The forks that support the front wheel would have needed to be too big if made from ash, so they're carbon, while there are also carbon inserts for the saddle post and the steerer tube, plus a steel insert at the bottom bracket where the cranks push through.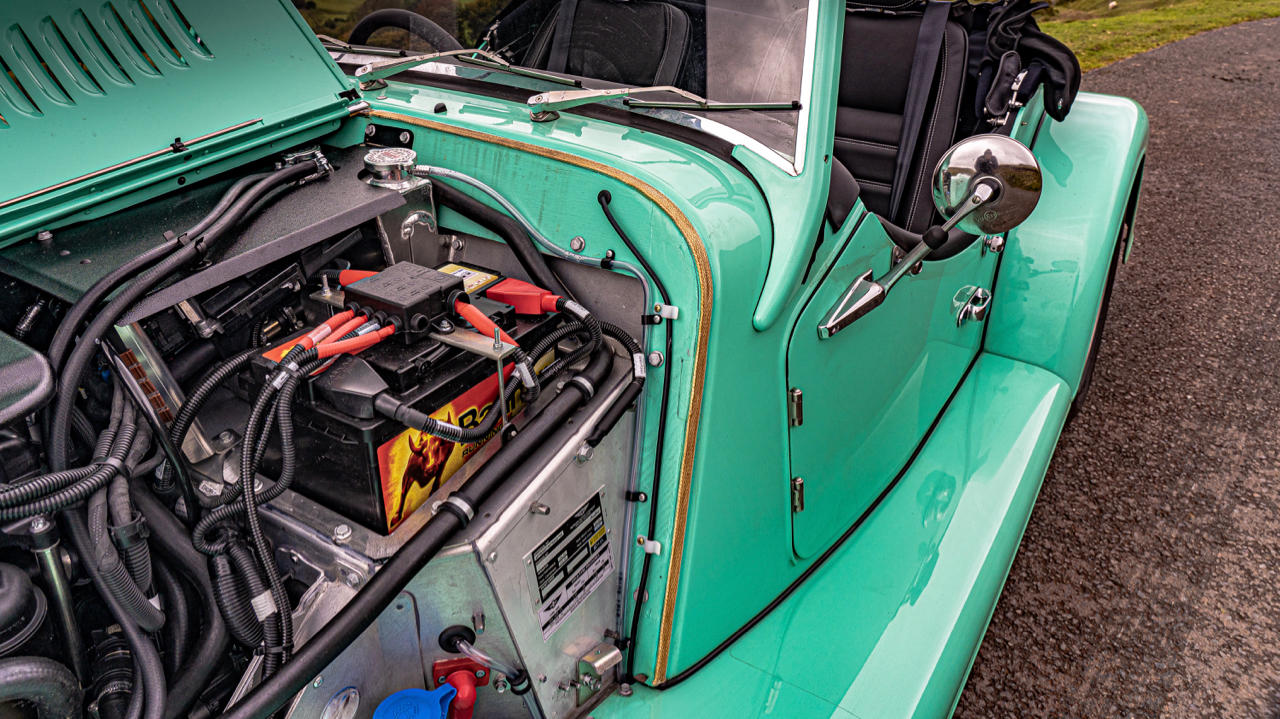 You can see the bike is wood very clearly. But it's harder to spot the Morgan's frame, not just because it's mostly hidden beneath leather or aluminium, but because it's painted to blend in. Spot the wood here? It's the part underneath the brown fabric strip. Look closely and you can just about see the grain in it through the paint. And what paint it is…
So we took the long termer to visit the bike near its Hay-On-Wye home. In fact the firm takes its name from the 690-metre tall hill you see in the background here. Probably just as well the firm chose the Welsh name, rather than the English, which is… Lord Hereford's Knob. 
There's clearly nothing amusing about that.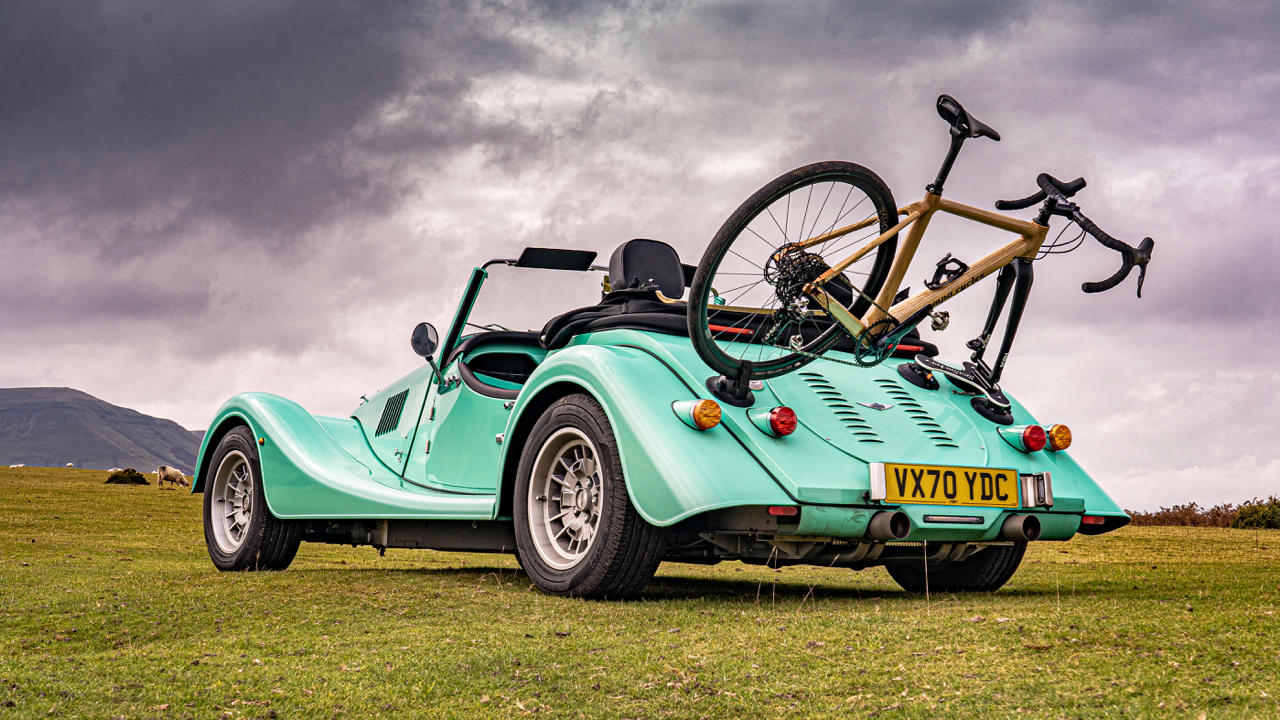 Yes, the bike is on the back of the car, held in place by a Seasucker bike rack. I didn't dare drive anywhere with it like this – too precarious. However, any suggestions for how to carry a bike on – or in – a Morgan gladly received. Next step for us would be to have a rear luggage rack fitted, disassemble the bike and bungee it on. If you've got a better idea we'd love to hear it. 
Neither is cheap. Nothing handbuilt and this individual can be. The Morgan Plus Four is £62,995 before you've spent £995 painting it mint green (or any other colour you care – anything is possible at Morgan), and that much money buys you some very competent opposition. A Porsche Boxster 4.0 GTS for instance. 
I'd describe the Morgan as genuinely idiosyncratic, an acquired taste that you either get or you don't. And I don't. Used to love the gutsiness of the V8 Aero 8, but the driving experience hasn't moved on enough, and these four cylinder underpinnings aren't characterful enough for me. 
The bike can hold its head higher. A top line carbon road or gravel bike is basically the same money as this GR 1.0. Twmpa charges £2,350 for the frame alone, with complete builds starting at around £5,000. Not cheap, but broadly in-line with other more conventional brands given the components and finishing kit. 
Speaking as a bike nut as well as a car nut, you don't want to buy two things that do the same job. You want the experiences to be different. So if you're lucky enough to be in the position of being able to afford a second car, you want it to give you something new and interesting. Maybe a Morgan, as that will be very different. Same with bikes. Why have a second carbon road bike? Why not have something really distinctive? And beautiful. Look at that join. It's a work of art.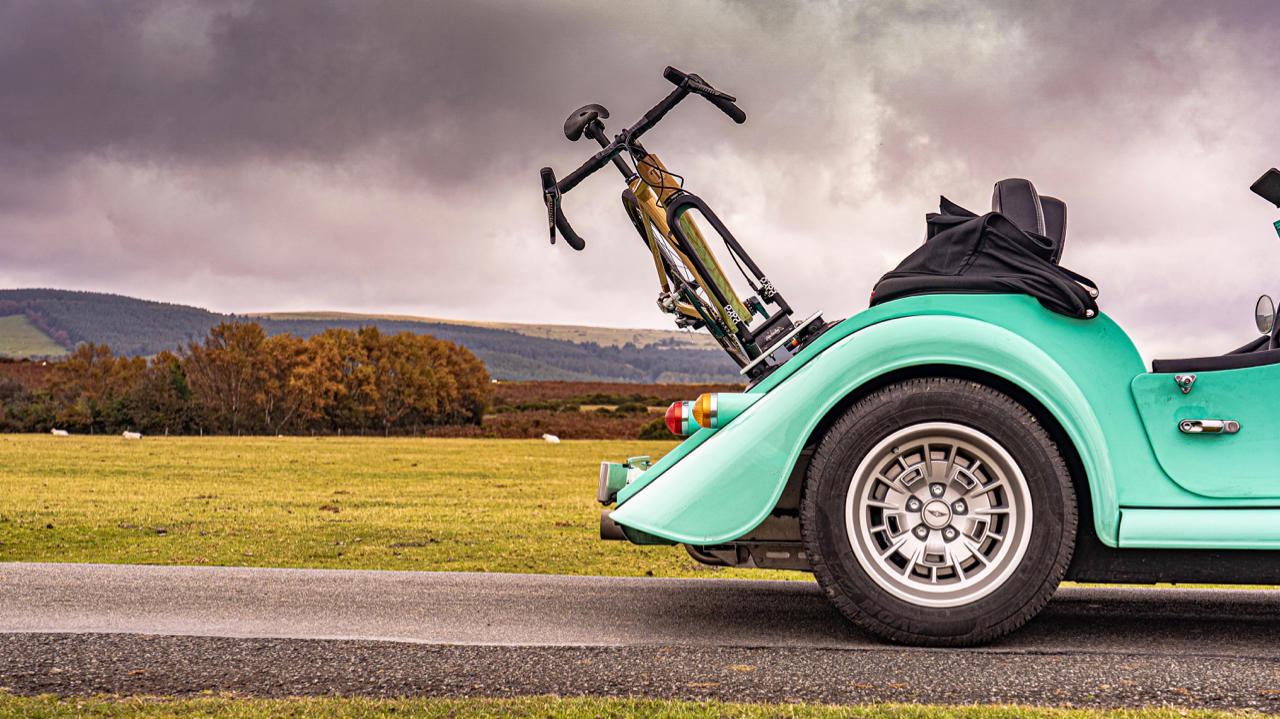 Morgan has plans to do more with wood, to honour its role in the Plus Four, but at the moment it's the bike that really celebrates the material it's made from. Wood. Been around for ages, still got something to teach us. Nature's like that. 
Mileage: 2550 Our mpg: 45.0
Powered by
more on this car
Take one for a spin or order a brochure
Powered by