SPEC HIGHLIGHTS
SPEC

Morgan Plus Four manual

ENGINE

1999cc

BHP

255bhp

0-62

5.2s
Why a Morgan takes a month to build
Brrrrnnnnggggg. The break bell shrills and everyone disappears. Instantly. Large hunks of aluminium are popped down seconds before kettles are popped on. There's no "let me just finish this…" When the break bell goes at Morgan, you stop what you're doing.
The Malvern factory is steeped in tradition and full of idiosyncrasy. Invite the boss of Nissan Sunderland or Toyota Derby for a look around and they'll likely be cowering in the corner breathing into a brown paper bag within seconds.
Advertisement - Page continues below
That's not to say it's disorderly. Beyond the constant 'ting, ting' of hammer meeting metal (and the dodgy Eighties music being pumped out by an archaic stereo unit), it's a surprisingly relaxing place to be. But where possible, each process that turns a Morgan from a pallet of wood, alloy and BMW drivetrain into a round-headlamped roadster takes an overtly crafted route to completion. The ginormous front wings, stretching from the headlamp cowl to the base of the rear arch, are superformed. But every other panel you see is hand beaten by people who've put in a five-year apprenticeship to learn how to do it right.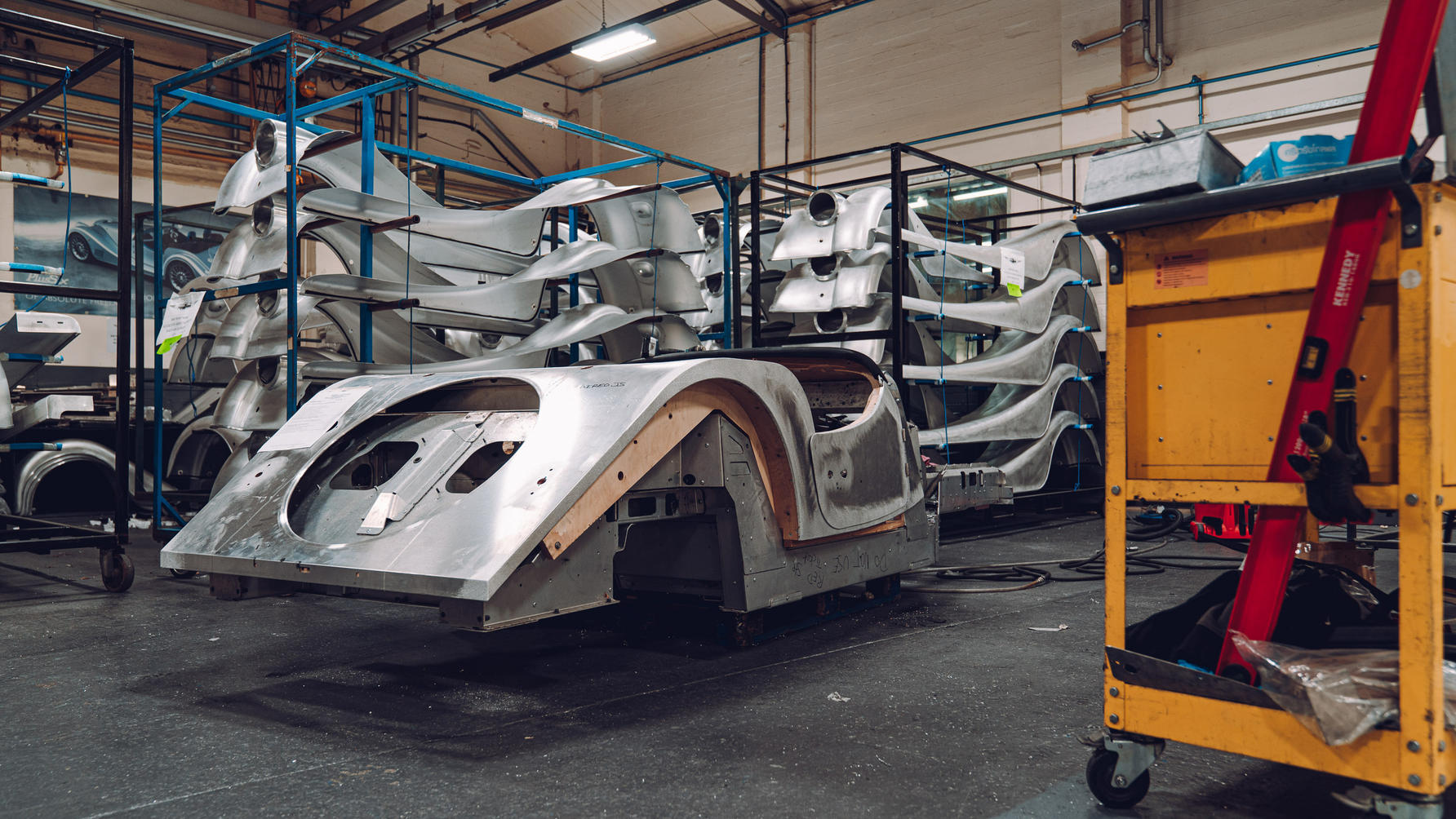 Or more. Today I'll be shadowing Paul in order to build the twin bonnets for our Plus Four long-term test car. He's been doing this for 17 years, having made artificial legs in his previous job. Now there's something that needs bespoke craftsmanship.
My five-year apprenticeship is being squeezed into a five-minute talking to, which ends with the phrase "If you **** it up, it's not my fault". Albeit delivered with a wry smile. What we both know is that my view down the Morgan's engine covers upon its completion – their 58 upper louvres visible from the driver's seat – will be ruined if I knacker this up. I'll be slapped in the face by my oafishness every time I drive it.
Advertisement - Page continues below
Here's how unique and handcrafted each Morgan is: the bonnets we're making today won't fit snugly onto any other Plus Four, likewise our Plus Four won't be able to borrow bonnets from elsewhere. Paul can recognise any panel he's made just from looking at it; they all have their own touches and quirks. I suspect the ones he's teamed up with an imbecile to make will display yet untold numbers of quirks…
The machinery we're using all looks like it could be on display in a living museum. And after months locked down in the house – not working out – I'm really not fighting fit to be using some of it. I manage to spin the wheel of Morgan's enormous mangle, as Paul feeds through a large piece of aluminium that, after three or four runs back and forth, miraculously turns into the elongated crescent that'll become the left bonnet. But for the next job – folding a lip down each leading edge, to strengthen our new panel – Paul has to provide the muscle, leaving me with the bit that requires total accuracy. Eek.
Nerves still jittering, I slot the left bonnet onto the car and Paul hands me a pair of overly sharp clippers to cut it into its final shape. Now, if you're anything like me, you turn present wrapping into something resembling nuclear disaster each Christmas, scissors running wild through the paper as you briskly get the job done.
Desperate to not do the same with a piece of metal we've spent half the morning finessing, I snip verrry slooowly to remove the 15-30mm necessary for the bonnet to sit flush against the front wing. Today's a proper education in just how involved – and bespoke – the construction of each Morgan is, and I suddenly get why our Plus Four is £25,000 more than a Boxster.
No time to get too profound, though, because we're onto the biggie – those louvres. There's 70 in total, six on the side of each bonnet, 29 across the top, and they all need to sit in a straight line. It's another two-man job and I'm to switch between feeding the bonnet accurately through the stamper (the bit that's easiest to balls up) and the supremely satisfying stamping (simpler, but timing is everything).
My nerves don't last for long – either my confidence is up, or this is the easiest of today's tasks. A welcome relief given how many hours of Paul's day I'd have thrown to the wind if I'd really knackered it up. The pride as I'm handed 'my' left bonnet, finished and ready for the paint shop… well I'll be amazed if I'm beaming this much when I meet my first child. It's been a tough few hours in the metal shop. Bring on the bell for home time.
A peek inside the wood shop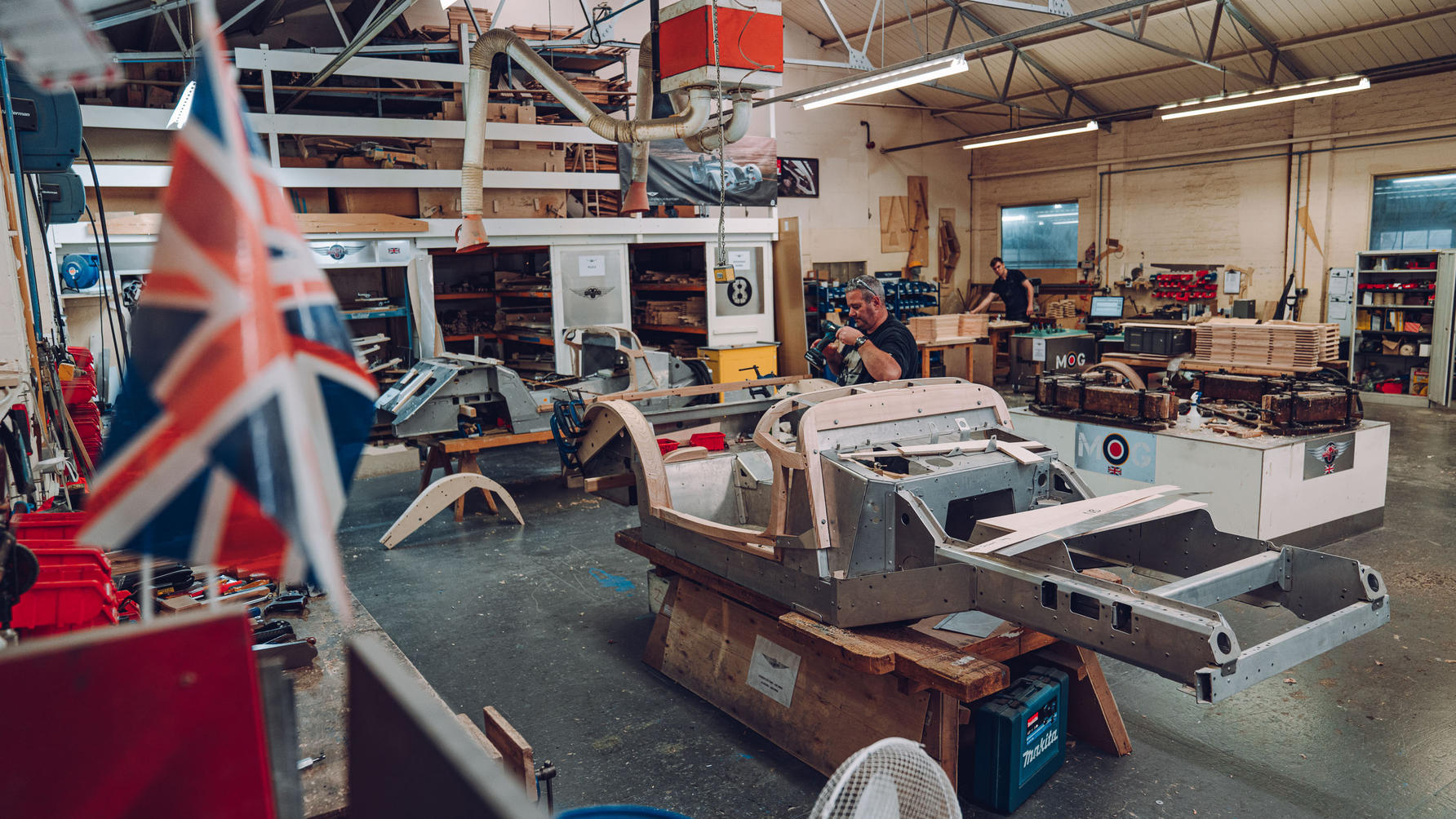 Our Plus Four's wooden frame was already complete; making an entire car is a month-long process, and sadly we couldn't do everything, our day in the metal shop about a week into the build process. But I thought you'd like a little insight into the material Morgan is best known for, and the best-smelling room in all of British carmaking…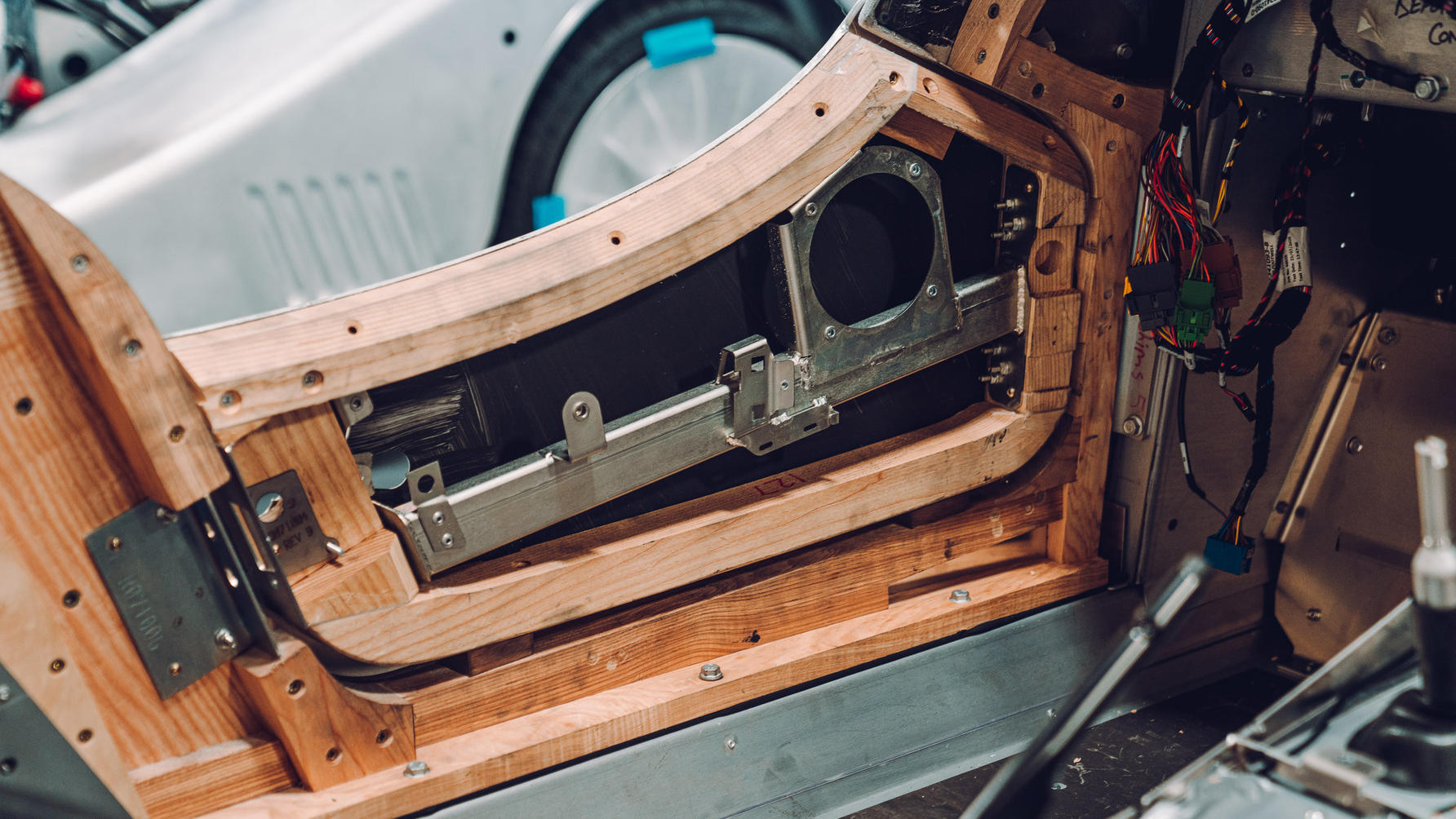 Rather than phase wood out of its cars, Morgan's doing the opposite: the ash on our Plus Four's doors is thicker than ever to help house its puddle lighting and central locking.
This is the oldest tool in the Morgan factory – a jig to shape the rear arches that no one actually knows the age of, as it predates every one of the 240 staff in Malvern.
There are 50 pieces of ash that go together to make one wooden Plus Four frame. Morgan describes it as the coat-hanger of the car: "Wood works for us – it allows us to beat the panels into shape over it."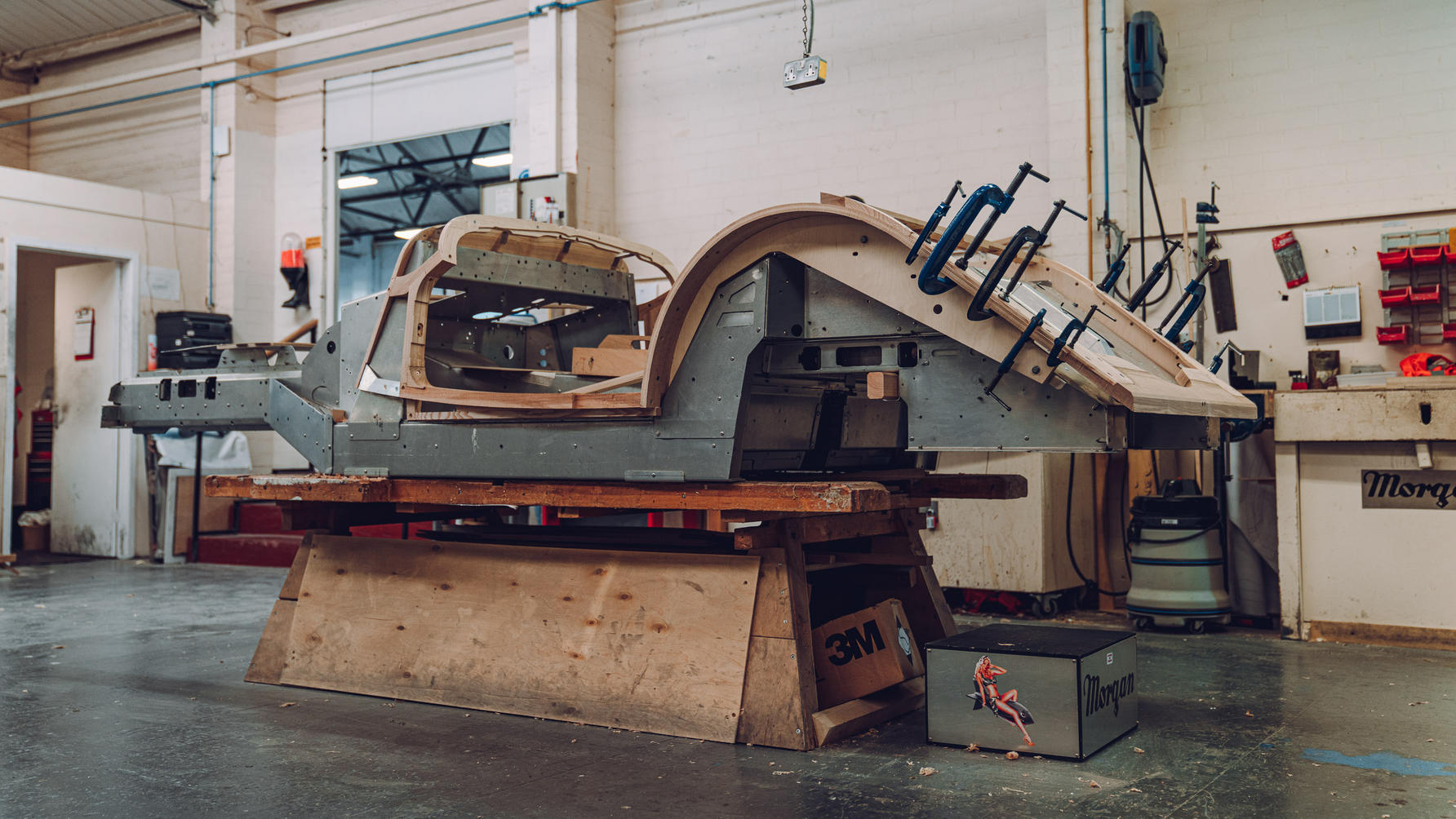 Spare wood chippings are used to heat the building, and might soon feed a wood-fired pizza oven in Morgan's new visitor centre. Up to 40 cars can be procured from one tree.
And a quick one on the least wooden component of the whole car: its efficient 4cyl turbo, supplied in a box from BMW with its bolts bagged together more neatly than any Billy bookcase I've ever built. Here, I'm 'helping' Rich mate the six-speed manual gearbox and 2.0-litre engine together.
Until next time...
Here's TopGear.com's Plus Four sporting its newly crafted bonnets as we clocked out and left the factory. In the next report, I'll pick the finished car up and see how it looks wearing a roof, windows and a few tins of bespoke Mint Green paint. I can't wait.
Photography: Mark Riccioni
Powered by
more on this car
Take one for a spin or order a brochure
Powered by